Media Coverage
Video:
Dessert Gallery on ABC 13

10.2017

Hand-decorated Astros cookies.
Dessert Gallery on Fox 26

5.2.12

Cupcake decorating tips by Dessert Gallery
Print:
Meet Sara Brook

6.20.18
6.20.18
Meet Sara Brook
Today we'd like to introduce you to Sara Brook. Sara, please share your story with us. How did you get to where you are today? Yes, it's true… I learned to read off the back of a chocolate chip cookie package. I was the champion "stirrer" at Mrs. Wagner's nursery school where we celebrated birthdays by making a cake mix and sharing it with the class. I took my first cooking class in 1968; the class was for 2nd and 3rd graders, but I begged them to let me attend even though I was only 6 at the time. I was the top cookie seller 2 years in a row for the San Jacinto Girl Scouts by getting "wholesale" accounts with local restaurants including Kaphan's on Main Street. And I always brought cookies and brownies to every carpool. I guess you could say that having a dessert business was my destiny. Getting to bake for a living and making a career out of doing something I love has been a dream come true. Not that it's always been perfect or easy, but I wouldn't trade it for anything. In 1983, I was 21 when I graduated Summa Cum Laude/Phi Beta Kappa from the University of Texas with a degree in Sociology and Computer Science. I had absolutely no plan or vision for the future, so I thought I would go to law school. I started studying for the LSAT and working at a law firm and quickly concluded that that life was not for me. It wasn't a total waste of time – I learned how to file a DBA at the courthouse and got my first one on October 19, 1983. I decided that I was going to make the world a better place by making fantastic homemade chocolate chip cookies, yummy cakes, and desserts! 2018 is my 35th year in business and on September 19th Dessert Gallery will celebrate its 23rd birthday! Besides Dessert Gallery, I have had two other successful startups, both dessert-related. Having my own business(es) has been the thrill of a lifetime and the scariest thing imaginable AND everything in between… usually on the same day. In 1983, right out of college, I started my first business, The Executive Sweet, in my parents' house. In 1988, I started my second company called Sara Brook Desserts and ended up developing a chocolate sauce called The Great Chocolate Cover-Up. After having my daughter, Jen, in September 1989, I marketed the sauce nationally through a network of brokers and distributors across the country, with Crate & Barrel being my largest customer. In September 1992, I sold out to a company in Tulsa and the sale included a 2-year consulting gig during which time the company went public! In Dec 1994, my consulting gig was up. I was 32, divorced, retired, and bored. So in January 1995, my four-year-old daughter, Jen and I started planning DG, and we opened in September 1995 one week before Jen's 5th birthday. We've always specialized in old-fashioned, homemade yummy all-American desserts just like your grandma used to make, only better. In 2003, I opened my second location near Post Oak & San Felipe near the Galleria. Between 2007-2009, I opened a 5000 sq. ft. commissary kitchen, I opened (and closed) a third location in Sugar Land, and as if that wasn't enough, I closed a total of 3 weeks due to 2 hurricanes, and survived a major fire at the commissary, and had to relocate my original cafe as well. On the personal side, my only daughter left for college in August of 2006, and my mom who was always my rock and a second mom to my Jen…. quit driving in December 2006 due to Alzheimer's and quickly went downhill. So there I was in the middle of this hailstorm to fight and fend for myself. Exhausted but determined, I never stopped believing passionately in my original vision of saving the world one chocolate chip cookie at a time. I always loved my desserts, my staff and my customers. Somewhere along the way, my little Jen graduated from college. I was fortunate to be able to work with her for a year and a half leading up to my 20th anniversary. It was under her guidance that we re-branded and remodeled the café. I was terrified to make the leap from our reliable old starburst to a new look – but Jen's vision was "spot on" and we have received nothing but accolades from old and new customers alike. They love the new logo, they love spending time at our new café, and the whole experience breathed new life into me and the whole company! Nelson Mandela was right when he said… "The greatest glory in living lies not in never falling, but in rising every time we fall." Please tell us about Dessert Gallery Bakery & Cafe. Dessert Gallery is all about passion! Passion for life. Passion for desserts. Passion for all that desserts represents: love, friends, family, nurturing, creativity, affection, sharing, community. Dessert Gallery is a woman-owned business started by a fifth-generation Houstonian. It is a place where real people make real desserts by hand, using great ingredients and lots of love. We were doing it this way when "homemade" and "all natural" were a given, and not just the buzzwords du jour. Dessert Gallery is family. There are second-generation workers in our kitchens and in our stores. We love knowing that our desserts have graced your tables for countless celebrations and special occasions at work and at home. We love seeing you enjoy our cafes with family and friends and we take personal pride when we see you come back time and time again. Passion. Hand-crafted. Family. Love. That's Dessert Gallery! If you had to go back in time and start over, would you have done anything differently? Here are the main lessons that have helped me stay determined, focused and strong when all I really wanted to do on some days was to hide under my covers and eat ice cream and watch cartoons all day… – You've got to believe! – Act "as if." One day it will eventually come true. – Don't go it alone. Ask for help. Sometimes your biggest cheerleader may come from someplace you didn't expect. – Surround yourself with people who believe in your dream. – Shit happens. You are not the shit that happens. – Follow your passion. There's something to be said for doing something you love. Every day isn't a fairy tale, but passion and determination go a long way when the going gets tough. – Learn something new every day. One of my favorite quotes is by Abraham Lincoln "I am a success today because I have a friend who believed in me and I didn't have the heart to let him down." Contact Info: Address: 3600 Kirby Drive SW corner of Kirby & Richmond Website: dessertgallery.com Phone: 713.522.9999 Email: customersvc@dessertgallery.com Instagram: https://www.instagram.com/Dessertgallery_1995/ Facebook: https://www.facebook.com/DessertGallery/ Twitter: http://twitter.com/DessertGallery Yelp: https://www.yelp.com/biz/dessert-gallery-bakery-and-cafe-houston?osq=dessert+gallery
Heroes of Harvey

How the food industry stepped up

10.9.17
10.9.17
Heroes of Harvey Restaurants - OutSmart Magazine
How the food industry stepped up when the storm hit.
By Marene Gustin
Afew days after the Tropical Storm Harvey floods, I was having lunch at Frank's Americana Revival when two Houston police officers came in. I told my waiter I wanted to pick up their check, but he informed me that restaurant owner Mike Shine had already taken care of it—and that three other tables had also asked to pay for the officers' meals.
Anyone familiar with Houston's food industry knows the generosity and camaraderie that abounds. In the aftermath of Harvey, it escalated to herculean proportions. "The first week after the hurricane, we had maybe 100 requests for hot meals," Shine says. "And of course we said yes. How many and where? A lot of the sheriff's deputies lost their homes and were staying at the jail to sleep and take showers off duty, and we took food to them about three or four times."
Frank's Americana Revival also gladly agreed to extend the Houston Restaurant Weeks fundraiser for the Houston Food Bank through the end of September. "In these trying times for Houston and its residents and businesses, we are touched by the outpouring of support from our generous supporters and donors," says Brian Greene, the food bank's president and CEO.
The Houston Food Bank serves 18 Texas counties, 11 of which have been declared disaster areas. In the storm's aftermath, the nonprofit distributed one million pounds of food per day—three to four times more than usual. In the first week following the storm, 8,700 volunteers showed up to help.
Houston Restaurant Weeks, where restaurants serve special menus and donate a portion of the price to the Houston Food Bank, is the largest annual fundraiser for the nonprofit. "Of course we agreed to extend the event," says Greg Martin, chef and co-owner (with his husband, Paul) of Bistro Menil. "We were lucky. Neither our home nor restaurant suffered any damage, but so many others did." Martin says about half of his customers are asking for the special menu. "That's what we can do right now to help, so we are."
Houston public-relations guru Dutch Small was in Atlanta while his husband, Israel Glass, battled the flooding in their hometown, but that didn't stop Small from helping out. Small took to social media to coordinate restaurants, chefs, and others who wanted to donate food and prepared meals for first responders and evacuees.
The Midtown Kitchen Collective became a hub for feeding those in need, cranking out 10,000 to 15,000 hot meals (in addition to 1,800 sandwiches) per hour.
Pico's restaurant donated $1 to the Houston SPCA for every cocktail sold, and chef/owner Arnaldo Richards took to the streets in affected neighborhoods on the north side to distribute lunches. Bollo Woodfired Pizza dedicated $5,000—an entire day's worth of sales on September 5—to five flood-affected families in the area.
Bryan Caswell's Reef eatery in Midtown took on some water, but he opened his kitchen to volunteers and began cooking for the relief efforts. Through his Southern Salt Foundation, he and his wife, Jennifer, also delivered hot meals and other necessities to hard-hit coastal towns like Rockport and Seadrift. And they're planning to hold benefits for rebuilding efforts at their two soon-to-be-opened downtown concepts, Oxbow 7 and Hoggbirds.
At the Dessert Gallery, founder/owner Sara Brook and her team spent mornings in the kitchen preparing hundreds of deli sandwiches, before delivering them to some of Houston's hardest-hit neighborhoods. Dessert Gallery also gave nearly $3,000 worth of food to Second Servings, Houston's only prepared-food rescue organization, and is donating all proceeds from the sale of #HoustonStrong, #TexasStong, and hoUSton cookies to Mayor Sylvester Turner's Harvey Relief Fund. "It was heartbreaking to see so many families schlepping a lifetime of memories and possessions to the curbs outside their once-beautiful homes. It was also inspiring to see their strength and can-do spirit," Brook says. "We know it was devastating for them—and hard labor. For us, being able to provide fresh meals and our signature chocolate-dipped chunk cookies was a labor of love."
And the list goes on. So many in the food industry—from chefs, restaurant owners, publicists, grocery stores, and media outlets—have donated time, money, and food to those in need.
The story of the bakers at El Bolillo Bakery went viral after they decided to bake bread for two days straight while they were trapped in their store during the flooding. They produced so much bread that they were able to feed thousands after the water receded.
And the folks at Mister French's Gourmet Bakery—Scott French, Roy Alvarez Jr., and chef C.J. Dilan—opened their doors to help feed first responders. The Mister French's kitchen produced more than 7,000 meals before that crew moved to Catering By George so they could increase their output. "We're a bakery and a caterer," French says. "So even before the storm, most of our orders were cancelled. And since we didn't have any flooding here, it just made sense to open up the kitchen and get to work helping those in need.
"We did 1,000 meals the first day, 2,000 the second, and 4,000 the third day," he adds. "It was a very rewarding experience."
But even without damage from Harvey, the business is still hurting. "The catering business has been hit a lot harder than other food businesses," he admits. "People aren't throwing parties and galas—and they shouldn't be right now. But the Greater Houston LGBT Chamber of Commerce has been really helpful to small businesses like us, helping to direct some business our way."
French says things are far from normal, but like so many others, he's confident Houston will recover.
This article appears in the October 2017 edition of OutSmart Magazine.
Harvey Sandwich Brigade

Donating to Harvey victims

8.31.17
8.31.17
Harvey Sandwich Brigade
Dee Dee Dochen remembered how touched she was following the Memorial Day flood when people decided to bring over lunches and a smile when recovery efforts began. So she decided to organize a similar effort post Harvey. She put out a call on Facebook late Tuesday evening and, on Wednesday morning, more than a dozen friends and West U neighbors joined together to package 300 lunches with sandwiches, chips and water. Dessert Gallery owner Sara Brook added sandwiches, cookies and provided the refrigerated truck and off they went.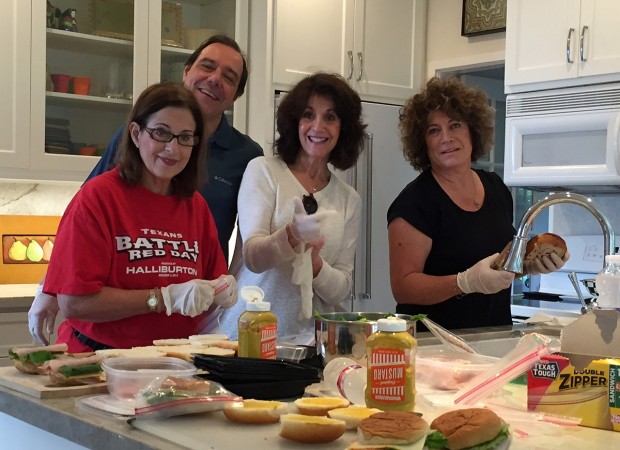 The "Harvey Sandwich Brigade," as they referred to the group, walked and rode as many Meyerland streets as they could. "The reactions just made us wish we could have made enough for the entire affected community," Dee Dee said.
See a list of volunteer opportunities here. This list is being continuously updated. Please comment below or email us at info@thebuzzmagazines.com(link sends e-mail) if you know of other opportunities.
Dessert Gallery in Upper Kirby

Kudos to this Upper Kirby bakery & café

1.11.13
1.11.13
Dessert Gallery in Upper Kirby
Ahh Dessert!!! Who doesn't love good sweets to eat after a great meal or to just enjoy with a cup of coffee? This blogger certainly does. After a recent visit to Kata Robata, I found a lovely little bakery and dessert shop in the same Strip Mall called Dessert Gallery [http://dessertgallery.com/] . I was too full for dessert at the time, but I did pick up some for myself and my kids to enjoy later. And enjoy those items we did!!!
Their menu [http://store.dessertgallery.com/] has a wonderful selection of cakes, pies and so forth. They also have sandwiches and they do catering as well. However, I had individual desserts on my mind, and I saw some awesome looking Houston Texans [http://www.nfl.com/teams/houstontexans/profile?team=HOU] cookies (GO TEXANS!!! BEAT THE PATS!!!) and those were my first to go selections. I also saw brownies that were half blondies that I knew my son would enjoy, so I picked one of them as well. Additionally I picked a white chocolate dipped Macademia Nut cookie for my daughter and for all of us to share, I picked two Triple Chocolate cupcakes (dark, white and milk) that were filled with chocolate ganache. Magnificent!!
We first tried a Triple Chocolate Cupcake--we cut it into thirds as one of these would send even a non-Diabetic into Sugar Shock I believe! But I will tell you, it was GOOOOOOD. Very chocolatey, rich, moist and satisfying. Best gourmet cupcake I've had in a while. And I will admit it was quite pretty to look at before it was utterly decimated by me and my 2 hungry kids!!! A day later we had the Texans cookies while watching them beat the Cincinatti Bungles... ERRR... BENGALS (Just kidding Susan Kim [http://www.todaystmj4.com/about/people/anchors/45518552.html] --tell your hubby it was just a joke!). These are nice sugar cookies, they do look great. They taste okay, not spectacular, but still quite good. Great for any Texans viewing party or Tailgate party in my humble opinion. Nice job guys!
Two days later, I came to find out that My 8 year old son gobbled up the Monkey Bar (Half blondie, half brownie, with nuts, caramel and other good stuff) before I could take a picture of it! He said with a full mouth it was "DEE LUSCIOUS!!!" My 10 year old daughter had more self control. She let me take a photo of the White Chocolate dipped Macadamia nut cookie for y'all (see on the right) and gave be a piece of the cookie to sample as well. This is wayyyyy better than the cookies you get at the mall folks, and thank goodness for that.
Although this visit to the Kirby location was somewhat of a dessert impulse, the sandwich menu looked very good to me and I may have to come back for a visit to try something savoury rather than sweet. I also liked how the cakes looked, and figured they'd have to taste pretty good based upon the other baked goods we tried. If I'm ever needing to order a birthday or wedding cake, or a cake for a special occasion, I will consider them and if it's good, they'll get another write up from yours truly.
Report Card for The Dessert Gallery:
Food:
Triple Chocolate Cupake: A+
Texans Sugar Cookies: AMonkey
Bar:
A (per Jason, not me)
White Chocolate Dipped Cookie: A
Service:
Speed: A
Friendliness: A+
Cleanliness:
Kitchen/Dining Area: A
Men's Room: Incomplete
Ovearall Grade: A
Dessert Gallery is located at:
3600 Kirby Drive at Richmond
Houston, TX 77098
Ph 713.522.9999
Fax 713.522.5511
Let them eat (great) cake

Home to one of the best chocolate cakes in town

1.27.11
1.27.11
Let them eat (great) cake: The best chocolate cakes in Houston for this sweet holiday & beyond
Maybe National Chocolate Cake Day is just a ruse planted by Betty Crocker to convince all of us to eat more of the good stuff, the way DeBeers invented the diamond engagement ring or the candy companies invented Valentine's Day (well, sort of).
But doesn't chocolate cake sell itself? Do we need a holiday to get us into the most classically and richly delicious of all desserts? Maybe not. But we've got one anyway and it's Thursday, so grab a glass of milk and head to these spaces for the best versions in town.
1. Mom's Chocolate Cake at Benjy's
This isn't a "just like mom's" chocolate cake. This is the real deal, with each one still made by owner Benjy Levit's mother. (Benjy: Give her a break, already!) With a gooey layer that encases a rich, fudgy center and just enough pecans for a crunch, it's simply perfection.
2. 24k Chocolate Cake at Strip House
Paper-thin layers of moist chocolate cake and smooth dark chocolate filling imported from Spain, plus an elegant semi-sweet ganache all over make this the most decadent chocolate cake in town.
3. Uncle Darryl's Chocolate Cake at The Chocolate Bar
People may rave about the more straightforward Aunt Etta's chocolate cake, but we head to the Chocolate Bar when we crave something a little darker and more complex — a cake with a rich, dark chocolate layers surrounding a sweet filling sprinkled with toffee and chocolate chip crumbles, all wrapped up in a sophisticated chocolate ganache.
4. Warm Chocolate Cake at Mark's American Cuisine
You know how Love Actually is so stuffed full of saccharine rom-com cliches that it should be terrible, but it's so smart and cute you love it anyway? That's how the chocolate cake at Mark's is. Whether paired with praline or mint ice cream, it's simply divine without crossing that "too sweet" line.
5. Jennifer's Birthday Cake at Dessert Gallery
Jennifer is Dessert Gallery owner Sara Brook's daughter, and nothing takes us back to our own childhood like this ultimate version of the classic chocolate birthday cake with a few sprinkles on top for flair.
Bonus: Vegan Chocolate Cake at Whole Foods Market
We polled our CultureMap vegan extraordinaire, Joel Luks, who said for his money the best vegan chocolate cake in town is the unassuming version at Whole Foods. Who knew?
Strawberry & Cream Cake from Dessert Gallery Bakery & Café

4.4.11
April 4, 2011
Strawberry & Cream Cake from Dessert Gallery Bakery & Café
In my opinion, in general, fruit should not be the main ingredient in a dessert. I always shudder when, at fancy restaurants, I see tables full of pastel-wearing underfed women all request $15 dishes of whole poached pears lightly drizzled in caramel sauce (or some similar crap) and then practically scream, THIS DESSERT IS SOOO RICH AND DELICIOUS. Right. I almost want to force-feed them a slice of flourless chocolate cake to see if they explode.
So when I ordered the Strawberry & Cream Cake from Dessert Gallery Bakery & Café, I was hoping for more cream and less strawberry. What I got, however, was all cream and almost no fruit: the three thick layers of moist white cake were barely laced with syrupy strawberry swirls and inundated with rich cream cheese frosting. I might as well have ordered regular vanilla, so scant was the strawberry presence in this cake.
Obviously, if you're craving anything along the lines of strawberry shortcake -- that is to say, a baked good that features actual pieces of fruit -- the Strawberry & Cream Cake would not be your cup of tea. And if you, like me, are looking for at least a few slices of berry, well, then, it won't do you much good either.
What does one do when your Strawberry & Cream Cake is lacking one of its advertised ingredients? Top off your slice with a scoop of strawberry ice cream and leave the real fruit for breakfast.
Sweet success

Sara Brook is a finalist for the People's Platelist award

8.24.10
8.24.10
Sweet success: Dessert Gallery's Sara Brook is a Nightline finalist
When we put out a call for Houstonians to nominate their favorite chefs for Nightline(http://abcnews.go.com/Nightline/Platelist)'s national People's Platelist contest, readers apparently responded. Out of 1,000 nominees, one Houstonian has been named one of the 18 finalists(http://abcnews.go.com/Nightline/Platelist/nightlinepeoples- platelist-contest/story?id=11251301): Sara Brook of Dessert Gallery(http://culturemap.com/mapdetail/dessertgallery- kirby/).
Brook has been a fixture of the Houston dessert scene for nearly 15 years since she opened her original Dessert Gallery location on Kirby. She added a second store on Post Oak a few years ago. She wins raves for her classic creations — cakes, especially, but also cookies and cupcakes — that come directly from childhood, as well as fostering a festive atmosphere with late hours, board games and whimsical design.
"It has been the craziest, most exciting whirlwind three weeks of my life," Brook says. "When I got the call from ABC, as I'm listening it kinda hit me that this wasn't a prank."
Brook says filming the video was almost an act of providence. "My daughter was just home for 10 days between studying abroad in Buenos Aires and heading back to school, so we have a really sweet moment in the video, and my dad's in it too. It was so thrilling, like the universe came together."
Brook and the 17 other finalists have created videos which will premiere on Nightline on Wednesday at 10:35 p.m. on Channel 13 (People's Platelist will air at the end of the show) Following the televised clip, all videos will be available online and voting will begin. Voting ends on Sept. 26, with the winner to be announced live on Nightline Sept. 27. Stay tuned for details of a Dessert Gallery viewing party, and don't forget to vote!
Press Releases:
2017 Holiday Season Shopping Made Sweet & Easy
2016 Cookie Poll Press Release
2013 WBEA Supplier of the Year
2012 Presidential Election Cookie Poll
2012 Dessert Gallery's Newest Cake is the Talk of the Town
2012 Chill Out Gelato at Post Oak
2011 How Sara Brook Built Dessert Gallery Bite by Bite
2010 Sara Brook Among 18 Finalists for ABC News Contest
2009 Dessert Gallery Partners With MD Anderson
2009 Dessert Gallery Offers Sweet Endings for the Holiday Season
2009 Dessert Gallery Flagship Moves to New Location
2009 Dessert Gallery Celebrates 14th Anniversary
2007 Have Your Cake and Beat the Flu
2007 Dessert Gallery's New Commissary
2007 Dessert Gallery's Great American Bake Sale